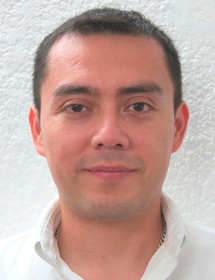 Emmanuel Alejandro Flores Johnson
NOMBRAMIENTO
Investigador Catedrático CONACYT
UNIDAD ACADÉMICA
Materiales
SNI
Nivel I
TELÉFONO
(52) 999 942 83 30, Ext: 268
CORREO INSTITUCIONAL
This email address is being protected from spambots. You need JavaScript enabled to view it.
EDUCACIÓN
Pos-doctorado. The University of Sydney (2012-2015); Australian Nuclear Science and Technology Organisation (2010-2012).
Doctorado. Ingeniería Mecánica. The University of Manchester. 2009.
Maestría. Materiales Poliméricos. Centro de Investigación Científica de Yucatán. 2005.
Licenciatura. Ingeniería Física. Universidad Autónoma de Yucatán. 2003.
LÍNEA ACTUAL DE INVESTIGACIÓN
Materiales compuestos y de ingeniería: jerárquicos, multiescala, biomiméticos, autorreparables, tipo "sandwich", espumados y tejidos.
Modelado multiescala usando el método de los elementos finitos (FEM) y el método de los elementos discretos (DEM); mecánica computacional e implementación de subrutinas.
Comportamiento dinámico, impacto balístico, daño y fractura. Pruebas experimentales con la barra de Hopkinson (SHPB).
Pandeo, arrugamiento y fractura de películas delgadas.
PROYECTOS VIGENTES
Development of lightweight and energy-efficient materials for multi-functional structural applications.
Desarrollo de Materiales Compuestos Avanzados Multiescala Autorreparables.
PUBLICACIONES RECIENTES
RECONOCIMIENTOS O PREMIOS
2012-2018. Miembro del Sistema Nacional de Investigadores (SNI), Nivel I. CONACYT
SITIOS RECOMENDADOS
Responsable de la Información: Emmanuel Alejandro Flores Johnson
Fecha de última actualización: 18 de enero de 2018.