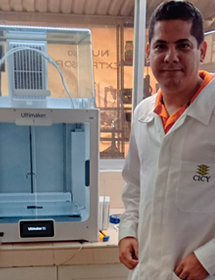 Aarón Rivas-Menchi
CURRENT POSITION
CONACYT-Researcher for Mexico
DIVISION
Materials Science
SNI LEVEL
C
TELEPHONE
(52) 999 942 83 30, EXT.: 175
E-MAIL
This email address is being protected from spambots. You need JavaScript enabled to view it.
Education
---
B.S. Mechatronics Engineering. Anahuac Mayab Universitiy. 2012.
M.Eng. Mechanics Engineering. Universidad Autónoma de San Luis Potosí. 2015.
Ph.D. Polymer Materials. Yucatan Scientific Research Center. 2019.
Current research
---
Composites and Nanomaterials
ONGOING RESEARCH
---
Development of advanced composite materials for use in housing. (CONACYT)
RECENT PUBLICATIONS
---
Aarón Rivas-Menchi, Narciso Acuña-González, Alex Valadez-González, Pedro J. Herrera-Franco. Effect of linear viscoelasticity on stress transfer in a numerical model of a single fiber fragmentation test. Materials Today Communications, 22:100757, (2020).
Aarón Rivas-Menchi, Hugo I. Medellín-Castillo, Dirk F. de Lange, Pedro de J. García-Zugasti. Performance evaluation of analytical expressions for cylindrical and rectangular deep drawing force estimation. Journal of Manufacturing Processes, 36:340-350, (2018).
RECOMMENDED WEB PAGES
---
Source: Aarón Rivas-Menchi
Last Updated: 2 june 2022