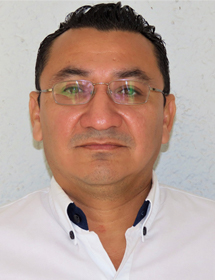 Francis Avilés Cetina
CURRENT POSITION
RESEARCHER
DIVISION
Materials Science
SNI LEVEL
III
TELEPHONE
(52) 999 942 83 30, EXT.: 388
E-MAIL
This email address is being protected from spambots. You need JavaScript enabled to view it.
Education
---
B.S. Mechanical Engineering. Instituto Tecnológico de Mérida. 2000.
M.S. Applied Physics. Centro de Investigación y de Estudios Avanzados. 2002.
Ph.D. Solid Body Mechanics. Florida Atlantic University. 2005.
Post-Doctorate. Composite Materials. University of Delaware. 2006.
Current research
---
Composites and Nanomaterials
ONGOING PROJECTS
---
Multifunctional Properties of Hierarchical Composites Based on Carbon Nanostructures. (ONRG/CONACYT)
Piezoresistivity and Self-Monitoring of Deformation and Damage on Multi-Scale Composites Based on Hybrid Carbon Nanostructures. (CONACYT)
Mechanical and Fracture Analysis of Fiber-Reinforced Composite Materials.
RECENT PUBLICATIONS
---
PATENTS OR TECHNOLOGICAL DEVELOPMENTS
---
Francis Avilés-Cetina, Marco Antonio Cen-Puc, José Roberto Bautista-Quijano, Alejandro May-Pat, Gabriel de Jesús Pool-Balam. Fabrication process of an electroconductive composite with high carbon nanotube content with application as a nanostructered thermistor. MX/E/2013/077417. México. (2020).
Fidel Fernando Gamboa-Perera, Alejandro de Jesús López-Puerto, Francis Avilés-Cetina, José Emilio Corona-Hernández, Andrés Iván Oliva-Arias. Method and apparatus to obtain the natural frequency of vibration and the elastic modulus of multi-layers with nanometric thickness. MX/E/2014/077358. México. (2018).
Francis Avilés-Cetina, José de Jesús Kú-Herrera. Carbon nanotube coated fibers and production method using an ultrasonic technique. MX/E/2013/071594. México. (2018).
RECOGNITIONS AND AWARDS
---
2003-2021. Member. American Society of Mechanical Engineers.
2018-2021. Member. Editorial board. Journal of Engineering Materials and Technology. American Society for Mechanical Engineers.
2021. Deputy Editor. Journal of Sandwich Structures and Materials. SAGE Journals.
RECOMMENDED SITES
---
Source: Francis Avilés-Cetina
Last Updated: 8 february 2022