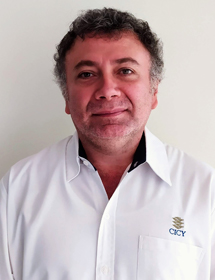 José Gonzalo Carrillo Baeza
CURRENT POSITION
RESEARCHER
DIVISION
Materials Science
SNI LEVEL
I
TELEPHONE
(52) 999 942 83 30, EXT.: 120
E-MAIL
This email address is being protected from spambots. You need JavaScript enabled to view it.
Education
---
B.S. Mechanical Engineering. Instituto Tecnológico de Mérida. 1997.
M.S. Materials Science. The University of Liverpool. 2004.
Ph.D. Materials Science. The University of Liverpool. 2007.
Post-Doctorate. Advanced Composite Materials. Centro de Investigación Científica de Yucatán. 2008.
Current research
---
Composites and Nanomaterials
ONGOING PROJECTS
---
Study of Biomimetic Composite Materials with Hierarchical Structure Using Computational Simulations. (CONACYT - CIENCIA BASICA)
Consolidation of the Renewable Energies Laboratory of the Southeast (LENERSE). (SENER – CONACYT)
Conservation, Sustainable Use, Increased Productive Capacity and Reconsideration of the Mayan Milpa in Yucatan. FONDO MIXTO CONACYT
RECENT PUBLICATIONS
---
PATENTS OR TECHNOLOGICAL DEVELOPMENTS
---
J.G. Carrillo, R.A. Gamboa. Postformable sandwich laminate with a recycled thermoplastic composite material core and metallic facings and its elaboration process. Registro: MX/a/2014/015578. México. (2020).
González-Chí P. I., C. Martín-Barrera, A. A. Lara-Lavalle, J. G. Carrillo-Baeza y G. A. Soberanis-Monforte. Electrostatic Continuous Fiber Impregnation System to Produce a Unidirectionally Reinforced Thermoplastic Sheet and the Thermoplastic Laminates Obtained from It. Registro: MX/a/2009/011587. México. (2015).
RECOGNITIONS AND AWARDS
---
2019-2020. Sabbatical. Youngstown State University, Ohio, USA. Beca Sabático CONACyT.
2008. Level I. Sistema Nacional de Investigadores.
RECOMMENDED SITES
---
Source: José Gonzalo Carrillo-Baeza
Last Updated: 25 August 2021