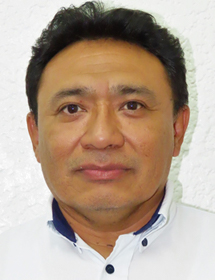 José Manuel Cervantes Uc
CURRENT POSITION
RESEARCHER
DIVISION
Materials Science
SNI LEVEL
II
TELEPHONE
(52) 999 942 83 30, EXT.: 199
E-MAIL
This email address is being protected from spambots. You need JavaScript enabled to view it.
Education
---
B.S. Industrial Chemistry. Universidad Autónoma de Yucatán. 1993.
Ph.D. Chemistry. Universidad Autónoma Metropolitano. 2005.
Current research
---
Materials for Regenerative Medicine
ONGOING RESEARCH
---
Surface properties of polymeric biomaterials and their influence on cell adhesion and proliferation behavior. (CONACYT)
Maintenance of specialized scientific equipment in the Materials Physicochemical Characterization Laboratory, CICY. (CONACYT)
RECENT PUBLICATIONS
---
RECOGNITIONS AND AWARDS
---
2006. Best Ph.D. Dissertation in polymer science (2004-2005). Sociedad Mexicana de Polímeros.
2016. World Biomaterials Congress (WBC) 2016 Merit Award. Ph.D. student recipient: Ena Deyla Bolaina-Lorenzo. Advisor: Dr. José M. Cervantes-Uc. Schwann cell biocompatibility of polycaprolactone/chitosan electrospun scaffolds. 10th World Biomaterials Congress, Montreal Canada.
2016. Member. Academia Mexicana de Ciencias.
RECOMMENDED WEB PAGES
---
Google scholar profile. ‪José Manuel Cervantes-Uc‬ - ‪Google Scholar‬‬‬‬‬‬‬‬‬‬‬‬‬‬‬‬‬‬‬‬‬
ResearchGate profile. Manuel CERVANTES | Titular Researcher | PhD | Centro de Investigación Científica de Yucatán, Mérida | CICY | Materials Unit (researchgate.net)
Source: José Manuel Cervantes-Uc
Last Updated: 25 August 2021