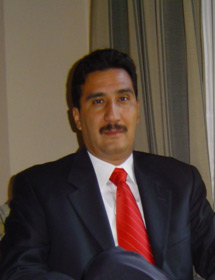 Manuel de Jesús Aguilar Vega
CURRENT POSITION
RESEARCHER
DIVISION
Materials Science
SNI LEVEL
II
TELEPHONE
(52) 999 942 83 30, EXT.: 254
E-MAIL
This email address is being protected from spambots. You need JavaScript enabled to view it.
Education
---
B.S. Chemical Engineering. Universidad Autónoma de Zacatecas. 1980.
M.S. Chemical Engineering. University of Southern California. 1984.
Ph.D. Chemical Engineering. University of Texas at Austin. 1993.
Post-Doctorate. Membranes Group. University of Texas at Austin. 2018.
Current research
---
Materials for Specialized Applications
ONGOING RESEARCH
---
Development of Membranes for Natural Gas Sweetening and Production of High Value Streams. (CONACYT-SENER)
Membrane System for Improved Water Desalination Systems NF and RO. (CONACYT)
Catalytic Membranes for Biofuels. (CEMIEBIO-CONACYT)
Ionic Membranes for Fuel Cell Membranes and Energy Applications. (CONACYT-SENER)
RECENT PUBLICATIONS
---
PATENTS OR TECHNOLOGICAL DEVELOPMENTS
---
Aguilar-Vega Manuel, Santiago-García José Luis, Loría-Bastarrachea Maria I., Alejandra Aimeé Gutiérrez-Mejía, (CICY), Yibran Argenis Perera-Mercado, Luis Alfonso Garcia-Cerda, Griselda Castruita de León, Luis Alberto Villarreal-Cárdenas, María Guadalupe Neira-Velázquez (CIQA) Joel Osvaldo Pacheco-Sotelo, Mariqueidia Joseline Pacheco-Pacheco, Ricardo Valdivia-Barrientos, José Fidel Ramos-Flores, Miguel Angel Durán-García, and Miguel Angel Hidalgo-Pérez (ININ). Method and System for Obtaining Sweet Gas, Synthetic Gas and Sulphur from Natural Gas. 9533260B2. United States. (2017).
M.J. Aguilar-Vega, M.O. González-Díaz, M.I. Loria-Bastarrachea, M.G. Aca-Aca, E. Gómez Trejo López. Membrana Catalítica Compuesta para Producción de Biodiesel. MX/a/2019/004068. México. (2019).
RECOGNITIONS AND AWARDS
---
2000-2005. Academic grant. Research Professor. Centro de Investigación en Polímeros, S.A. de C.V.
Source: Manuel de Jesús Aguilar-Vega
Last Updated: 25 August 2021