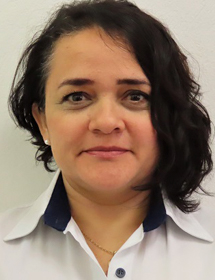 Ruby Alejandra Valdez Ojeda
CURRENT POSITION
Researcher
DIVISION
Renewable Energy
SNI LEVEL
I
TELEPHONE
(999)-981-39-43, Ext.:120
E-MAIL
This email address is being protected from spambots. You need JavaScript enabled to view it.
Education
---
B.S. Industrial Chemistry. Universidad Autónoma de Yucatán. 2004.
Ph.D. Biological Sciences. Centro de Investigación de Yucatán. 2009.
Current research
---
ONGOING RESEARCH
---
Study of freshwater microalgae to produce triacylglycerides.
Biological production of hydrogen from freshwater microalgae. (SENER-CONACYT)
RECENT PUBLICATIONS
---
RECOGNITIONS AND AWARDS
---
2020. Level I. Sistema Nacional de Investigadores. CONACYT.
Source: Ruby Alejandra Valdez-Ojeda
Last Updated: 4 June 2021