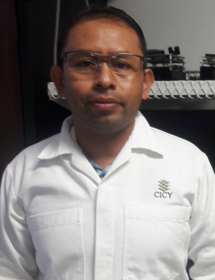 Luis Orlando Polanco Vásquez
CURRENT POSITION
Titular Technician A
DIVISION
Renewable energy unit
PHONE
(52) (999)-9300-760, Ext.:1212
EMAIL
This email address is being protected from spambots. You need JavaScript enabled to view it.
EDUCATION
---
B.S. Electrical engineer. Universidad de San Carlos de Guatemala.
M.S. Electrical engineering. Universidad de Guanajuato.
Ph. D. Renewable energy. Centro de investigación Científica de Yucatán A.C..
CURRENT RESEARCH
---
Hybrid systems, synthesis and catalysts.
ONGOING RESEARCH
---
Energy management systems for microgrid, Modeling of bioreactors using heuristic techniques (CONACYT)
RECENT PUBLICATIONS
---
Vásquez, L.O.P.; Ramírez, V.M.; Langarica Córdova, D.; Redondo, J.L.; Álvarez, J.D.; Torres-Moreno, J.L. Optimal Management of a Microgrid with Radiation and Wind-Speed Forecasting: A Case Study Applied to a Bioclimatic Building. Energies 2021, 14, 2398. https://doi.org/10.3390/en14092398.
Vásquez, L.O.P.; Ramírez, V.M.; Thanapalan, K. A Comparison of Energy Management System for a DC Microgrid. Appl. Sci. 2020, 10, 1071. https://doi.org/10.3390/app10031071.
Polanco Vasquez, L.O.; Carreño Meneses, C.A.; Pizano Martínez, A.; López Redondo, J.; Pérez García, M.; Álvarez Hervás, J.D. Optimal Energy Management within a Microgrid: A Comparative Study. Energies 2018, 11, 2167. https://doi.org/10.3390/en11082167.
Source: Luis Polanco
Last Updated: 25 may 2022