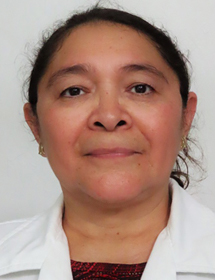 Blondy Beatriz Canto Canché
CURRENT POSITION
Researcher
DIVISION
Biotechnology
SNI LEVEL
II
TELEPHONE
(52) 999 942 83 30; EXT. 265
E-MAIL
This email address is being protected from spambots. You need JavaScript enabled to view it.
Education
---
B.Sc. Biological Bromatological Chemistry. Universidad Autónoma de Yucatán. 1988.
Ph.D. Biological Sciences. Centro de Investigación Científica de Yucatán. 2000.
Post-Doctorate. Instituto de Biotecnología, Universidad Nacional Autónoma de México. 2001
Current research
---
Agrobiotechnology
Microoroganism Biotechnology
RECENT PUBLICATIONS
---
PATENTS OR TECHNOLOGICAL DEVELOPMENTS
---
Canto-Canché Blondy, Vázquez-Euán Roberto Carlos, Islas-Flores Ignacio Rodrigo, Sánchez-Rodríguez Yasmin Abril, Higuera-Ciapara Inocencio, Sáenz-Carbonel Luis. System for detection, quantification and gene expression analysis of the fungus Mycosphaerella fijiensis, based on real time polymerase chain reaction. MX/a/2012/015128. Mexico. (2019).
Canto-Canché Blondy, Carreón-Anguiano Karla Gisel. EffHunter version 1.0. Public Registry of Copyright. 03-2019-101809310300-01. Mexico. (2019).
RECOGNITIONS AND AWARDS
---
1988. SINTEX Award. Best GPA in the major. SINTEX.
1998. Diploma. Best GPA in class, Ph.D. Centro de Investigación Científica de Yucatán.
2014. Member. Académia Mexicana de Ciencias.
RECOMMENDED WEB PAGES
---
Source: Blondy Beatriz Canto-Canché
Last Updated: 26 August 2021