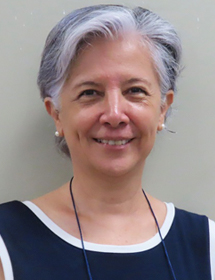 Ingrid Aileen O'Connor-Sánchez
CURRENT POSITION
Researcher
DIVISION
Biotechnology
SNI LEVEL
I
TELEPHONE
(52) 999 942 83 30, EXT.: 205
E-MAIL
This email address is being protected from spambots. You need JavaScript enabled to view it.
Education
---
B.Sc. Biology. Universidad Nacional Autónoma de México. 1994.
Ph.D. Biotechnology. Centro de Investigación y de Estudios Avanzados. 2002.
Current research
---
Microoroganism Biotechnology
ONGOING PROJECTS
---
Rhizospheric microbial communities associated with ciricote. (CONACYT)
Study of the composition of genital microbiota in men and its relation to human papillomavirus infection: Generating cutting-edge knowledge with an impact on health. (CONACYT)
Microbial communities in the honey of native bees.
Microbial communities in the air.
RECENT PUBLICATIONS
---
Source: Ingrid Aileen O'Connor-Sánchez
Last Updated: 26 August 2021