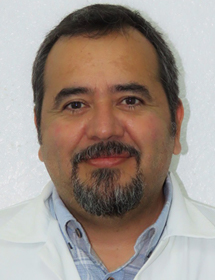 Lorenzo Felipe Sánchez-Teyer
CURRENT POSITION
Researcher
DIVISION
Biotechnology
SNI LEVEL
II
TELEPHONE
(52) 999 942 83 30, EXT.: 204
E-MAIL
This email address is being protected from spambots. You need JavaScript enabled to view it.
Education
---
B.Sc. Biochemical Engineer. ITC. 1997.
Ph.D. Science and Plant Biotechnology. Centro de Investigación Científica de Yucatán. 2003.
Post-Doctorate. Queen Mary University of London and Kew Garden, Jodrell. 2006.
Current research
---
ONGOING PROJECTS
---
Support for high-value agrifood chains to increase their competitiveness and contribute to development of their socio-economic impact in the South Pacific region in Mexico. (FORDECYT, CONACYT)
RECENT PUBLICATIONS
---
RECOGNITIONS AND AWARDS
---
2020. Level II, Sistema Nacional de Investigadores. CONACYT
2008. ISHS Medal. International Society for Horticultural Science.
2005. Prance Fellowship in Neotropical Botany. Kew Latin America Research Fellowships Committee (Royal Botanic Gardens, Kew).
Source: Lorenzo Felipe Sánchez-Teyer
Last Updated: 26 August 2021