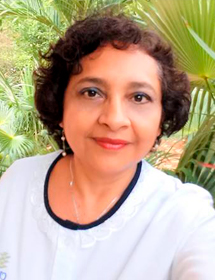 María Marcela Gamboa-Angulo
CURRENT POSITION
Researcher
DIVISION
Biotechnology
SNI LEVEL
II (2021 – 2025)
TELEPHONE
(52) 999 942 83 30, Ext: 107, 192
E-MAIL
This email address is being protected from spambots. You need JavaScript enabled to view it.
Education
---
Bachelor´s, Agricultural Biologist Chemist. Autonomous University of Yucatan, 1988.
Master´s, Chemical Science (Organic Chemistry). Autonomous University of Yucatan 1993.
Doctorate, Chemical Science (Organic Chemistry). National Autonomous University of Mexico, 2000.
Research sabbatical stay, Institute of Agricultural Sciences CSIC, Madrid, Spain, 2008-2009.
Research sabbatical stay, National Technologists of Mexico, Campus Conkal, Mexico, 2019-2020.
Current research
---
Natural Products Biotechnology: Natural Products from plant and microbial sources with applications in agriculture (Biopesticides) and pharmacy. Antimicrobials, insecticides, and nematicides.
ONGOING PROJECTS
---
Incorporation of biorational products of the regional flora in the integrated management of diseases in protected conditions and backyard horticultural crops. CONACYT-CIESAS. Postdoctoral Stays for Indigenous Women in Science, Technology, Engineering and Mathematics 2019. 2019-2022
Biotechnological applications in pharmacy and agriculture of natural products obtained from the native flora of the Yucatan peninsula promoting their propagation, conservation, and sustainable use. CONACYT-National Problems 2016-2020
Additions to the study of tropical microscopic fungi with biotechnological potential in pharmacy and agriculture. Conacyt-Basic SEP 2011-2015
RECENT PUBLICATIONS
---
PATENTS OR TECHNOLOGICAL DEVELOPMENTS
---
María Marcela Gamboa Angulo, Angel Emmanuel Cruz Estrada, Esau Ruíz Sánchez, Azucena González Coloma, María Fé Andrés Yeves, Irma Leticia Medina Baizabal, Jairo Cristóbal Alejo, Paulino Simá Polanco, Eduardo Balam Uc. Extractos y compuestos de Eugenia winzerlingii, método de obtención y su uso en el control de plagas agrícolas Grant date: 18/02/2021, Registry number: MX/E/2021/007336, Folium number: 13174.
RECOGNITIONS AND AWARDS
---
2020, Nacional Researcher level II. National Research System
2016, Nacional Researcher level II. National Research System
2012, Investigador Nacional Nivel I. National Research System
2008, Grant Sabbatical Stay ICA-CCMA del CSIC, Spain. Spanish Agency of International Cooperation
2002, Grant Stay, The University of Iowa Universidad de Iowa, USA. Mexican Academy of Science -USA Foundation-American Chemical Society.
RECOMMENDED SITES
---
Source: María Marcela Gamboa-Angulo
Last Updated: January 12, 2023