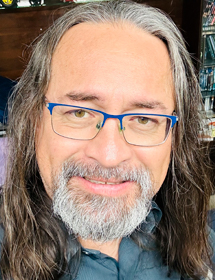 Santy Peraza Echeverría
CURRENT POSITION
Researcher
DIVISION
Biotechnology
SNI LEVEL
II
TELEPHONE
(52) 999 942 83 30, EXT.: 202
E-MAIL
This email address is being protected from spambots. You need JavaScript enabled to view it.
Education
---
B.Sc. Biology. Universidad Autónoma de Yucatán. 1998.
M.S. Plant Biotechnology. Centro de Investigación Científica de Yucatán. 2000.
Ph.D. Plant Biotechnology. Queensland University of Technology, Australia. 2004.
Current research
---
Agrobiotechnology
Microoroganism Biotechnology
ONGOING PROJECTS
---
Characterization of receptors and transcription factors associated with disease resistance in tropical crops. (CONACYT)
Production of recombinant proteins in the green microalgae Chlamydomnas reinhardtii using a novel salt inducible promoter. (CONACYT)
RECENT PUBLICATIONS
---
PATENTS OR TECHNOLOGICAL DEVELOPMENTS
---
James Langham-Dale, Santy Peraza-Echeverria. Banana resistance genes and uses thereof. 7,601,887 B2. USA. 2009.
Virginia Aurora Herrera-Valencia, Santy Peraza-Echeverria, Anayeli Beltrán-Aguilar. Inducible CrGPDH3 promoter of Chlamydomonas reinhardtii and the use thereof for the expression of recombinant proteins. WO 2020/130772 A1. 2020.
RECOGNITIONS AND AWARDS
---
2001. Scholarship for PhD studies in Australia. (CONACYT)
2013. Level I. Sistema Nacional de Investigadores. (CONACYT)
2020. Level II. Sistema Nacional de Investigadores. (CONACYT)
RECOMMENDED SITES
---
Dale J, James A, Jean-Yves P, Khanna H, Smith M, Peraza-Echeverria S, Garcia-Bastidas F, Kema G, Waterhouse P, Mengersen K, Harding R (2017). Transgenic Cavendish bananas with resistance to Fusarium wilt tropical race 4. Nature Communications. 8:1496. DOI:10.1038/s41467-017-01670-6. ISSN 2041-1723
Bananapocalypse: genetic modification may save $12bn industry.
https://www.theguardian.com/environment/2017/nov/16/bananapocalypse-genetic-modification-may-save-12bn-industry.
GM banana shows promise against deadly fungus strain.
Source: Santy Peraza-Echeverría
Last Updated: 26 August 2021