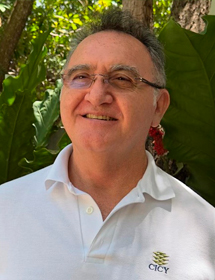 Sergio Rubén Peraza-Sanchez
CURRENT POSITION
Researcher
DIVISION
Biotechnology
SNI LEVEL
II
TELEPHONE
(52) 999 942 83 30, EXT.: 224
E-MAIL
This email address is being protected from spambots. You need JavaScript enabled to view it.
Education
---
B.Sc. Industrial Chemistry. Universidad Autónoma de Yucatán. 1986.
M.S. Organic Chemistry (Phytochemistry). Instituto Tecnólogico y de Educación Superior de Monterrey. 1989.
Ph.D. Pharmacognosy. University of Illinois at Chicago. USA. 2000.
Current research
---
Natural Products Biotechnology
ONGOING PROJECTS
---
Interdisciplinary study in native Mexican amaranth populations to determine their domestication center and assess the agricultural traits that allow the improvement of cultivars. (CONACYT)
Lupane type triterpenes: biological evaluation and their potential for the treatment of leukemias. CONACYT
RECENT PUBLICATIONS
---
RECOGNITIONS AND AWARDS
---
2016-2019. President, Asociación Mexicana de Investigación en Productos Naturales, A.C.
2018. Level II. Sistema Nacional de Investigadores. (CONACyT).
RECOMMENDED WEB PAGES
---
Source: Sergio Rubén Peraza-Sanchez
Last Updated: 26 August 2021