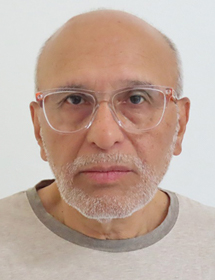 Carlos Mariano Oropeza Salín
NOMBRAMIENTO
Investigador Titular C
UNIDAD ACADÉMICA
Biotecnología
SNI
Nivel III
TELÉFONO
(52) 999 942 83 30 Extensión: 191
CORREO INSTITUCIONAL
This email address is being protected from spambots. You need JavaScript enabled to view it.
EDUCACIÓN
---
1975 Tecnología de Alimentos, Universidad Nacional Autónoma de México
1979 Maestría en Bioquímica, Universidad Nacional Autónoma de México
1982 Doctorado en Bioquímica Vegetal, University College of North Wales, Bangor, Reino Unido
1992 Postdoctorado en Cultivo in vitro, Imperial College, Wye, Reino Unido
LÍNEA ACTUAL DE INVESTIGACIÓN
---
Relaciones planta/patógeno/vector/medio ambiente del amarillamiento letal.
Cultivo in vitro de cocotero,
PUBLICACIONES RECIENTES
---
Puch-Hau C, Oropeza C, Peraza-Echeverria S, Góngora-Paredes M, Narvaez M, Córdova Lara I, Zizumbo D and Sáenz Carbonell L (2015). Molecular cloning and characterization of disease-resistance gene candidates of the nucleotide binding site (NBS) type from (Cocos nucifera L.). Physiological and Molecular Plant Pathology 89: 87-96.
Harrison N, Davis RE, Oropeza C,; Helmick E, Narváez M; Eden-Green S; Dollet M and Dickinson M (2014). Candidatus Phytoplasma palmicola, associated with a lethal yellowing-type disease of coconut (Cocos nuciferaL.) in Mozambique. International Journal of Systematic and Evolutionary Microbiology. 01-01-2014.
Córdova Lara I, Oropeza C, Puch Hau CA; Harrison N, Collí-Rodríguez A, Narváez-Cab M, Nic Matos JG, Reyes C and Sáenz Carbonell LA (2014). A real-time PCR assay for detection of coconut lethal yellowing phytoplasmas of group 16SrIV subgroups A, D and E found in the Americas. Journal of Plant Pathology. 01-06-2014.
Montero-Cortés M, Cordova I, Verdeil JL, Hocher V, Pech y Ake A, Sandoval A, Oropeza C and Sáenz L (2011). GA3 stimulates expression of E2F-like genes and CDKA during in vitro germination of zygotic embryos of Cocos nucifera (L.). Plant Cell Tiss Organ Cult 107:461–470.
Oropeza C, Cordova I, Chumba A, Narváez M, Sáenz L, Ashburner R and Harrison, N. (2011). Phytoplasma distribution in coconut palms affected by lethal yellowing disease. Annals of Applied Biology 159: 109-117.
Responsable de la Información: Carlos Mariano Oropeza Salín
Fecha de última actualización: 28 de agosto de 2015.