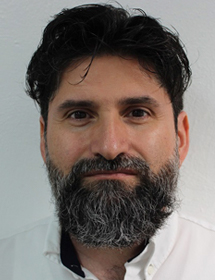 Jorge Humberto Ramírez Prado
NOMBRAMIENTO
Investigador Titular B
UNIDAD ACADÉMICA
Biotecnología
SNI
Nivel I (2017-2020)
TELÉFONO
(52) 999 942 83 30,  Ext :376
CORREO INSTITUCIONAL
This email address is being protected from spambots. You need JavaScript enabled to view it.
EDUCACIÓN
Licenciatura, Química. Universidad de Guanajuato, México,1998.
Doctorado, Ciencias con especialidad en Biotecnología de Plantas. CINVESTAV U. Irapuato, México, 2004.
PostDoctorado. North Carolina State University, EUA, 2008.
LÍNEA ACTUAL DE INVESTIGACIÓN
Genómica computacional: sintenia y rearreglos en genomas fúngicos.
Evolución molecular de genomas.
Desarrollo de software libre bioinformático para educación/investigación.
PUBLICACIONES RECIENTES
Youssef, M.; Alhammadi, A. S.; Ramirez-Prado, J. H.; Sanchez-Teyer, L. F.; Escobedo-GraciaMedrano, R. M., Remarks on genetic diversity and relationship of Punica protopunica and P-granatum assessed by molecular analyses. Genet Resour Crop Ev 2018, 65 (2), 577-590.
Conde-Ferraez, L.; Pacheco-Arjona, R.; Novelo Canul, C.; Gomez-Carballo, J.; Ramirez-Prado, J. H.; Ayora-Talavera, G.; Gonzalez-Losa, M. D. R., Genetic Variability in E6 and E7 Oncogenes from Human Papillomavirus Type 58 in Mexican Women. Intervirology 2018, 60, 235-246.
Quiroz-Ramirez, J. J.; Sanchez-Ramirez, E.; Hernandez, S.; Ramirez-Prado, J. H.; Segovia-Hernandez, J. G., Multiobjective Stochastic Optimization Approach Applied to a Hybrid Process Production-Separation in the Production of Biobutanol. Ind Eng Chem Res 2017, 56 (7), 1823-1833.
Leal-Alvarado, D. A.; Martinez-Hernandez, A.; Calderon-Vazquez, C. L.; Uh-Ramos, D.; Fuentes, G.; Ramirez-Prado, J. H.; Saenz-Carbonell, L.; Santamaria, J. M., Identification of up-regulated genes from the metal-hyperaccumulator aquatic fern Salvinia minima Baker, in response to lead exposure. Aquat Toxicol 2017, 193, 86-96.
Kottom, T. J.; Hebrink, D. M.; Jenson, P. E.; Ramirez-Prado, J. H.; Limper, A. H., Characterization of N-Acetylglucosamine Biosynthesis in Pneumocystis species. A New Potential Target for Therapy. Am J Respir Cell Mol Biol 2017, 56 (2), 213-222.
RECONOCIMIENTOS O PREMIOS
2017-2020, 2014-2016, 2010-2012, Miembro del Sistema Nacional de Investigadores. Nivel 1.
2010, Matsumae Fellow, Matsumae International Foundation, Japan.
2007-2009, Miembro del Sistema Nacional de Investigadores. Nivel Candidato.
1998, Tesis de Licenciatura Laureada. Universidad de Guanajuato
SITIOS RECOMENDADOS
Responsable de la Información:Jorge Humberto Ramírez Prado Fecha de última actualización: 4 de septiembre de 2018.