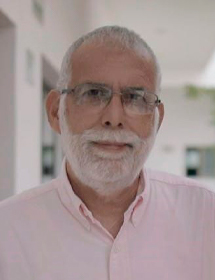 Luis Manuel Peña Rodríguez
NOMBRAMIENTO
Investigador Titular E
UNIDAD ACADÉMICA
Biotecnología
SNI
Investigador emérito en el SNI
TELÉFONO
(52) 999-930-0760 ext 1072
CORREO INSTITUCIONAL
This email address is being protected from spambots. You need JavaScript enabled to view it.
EDUCACIÓN
---
Doctorado, Doctor en Química. Universidad de Alberta-Canada. 1985
Postdoctorado, Profesor Visitante. Universidad Estatal de Carolina del Norte-EUA. 1988
Postdoctorado, Profesor Visitante. Universidad de New Brunswick-Canada. 1993
Estancia Sabática. Universidad Nacional Autónoma de México. 2000
Estancia Sabática. Universidad Técnica de Munich-Alemania. 2011
LÍNEA ACTUAL DE INVESTIGACIÓN
---
Química de Productos Naturales: Fitoquímica (detección, aislamiento e identificación de metabolitos bioactivos producidos por plantas medicinales); Ecología Química (estudio del papel de los metabolitos secundarios en interacciones planta-patógeno y planta-insecto); Metabolómica y Biosíntesis.
PROYECTOS VIGENTES
---
New natural product based drugs against bacterial respiratory tract infections. 2017-2021. En colaboración con la Universidad de Lund, Suecia.
Valoración de los recursos vegetales, naturales y renovables de la península de Yucatán. SEP-CONACYT-ANUIES-ECOS NORD. 2017-2021. En colaboración con la Universidad de Angers, Francia.
"Estudio del origen biosintético de terpenoides con esqueleto campechano producidos por Pentalinon andrieuxii (Apocynaceae)". 2014-2021. SEP-CONACYT. En colaboración con la UBBMP-CICY y la Universidad Técnica de Munich, Alemania.
PUBLICACIONES RECIENTES
---
Peña-González M.C., N. Muñoz-Cázares, L.M. Peña-Rodríguez. Natural Inhibitors of Quorum-Sensing Factors. A Novel Strategy to Control Pathogenic Bacteria. Revista Brasileira de Farmacognosia. DOI: 10.1007/s43450-020-00112-7
Leyte-Lugo M., P. Richomme, P. Poupard, L.M. Peña-Rodriguez. Identification and quantification of a phytotoxic metabolite from Alternaria dauci. Molecules, 2020, 25, 4003; doi:10.3390/molecules25174003.
Hiebert-Giesbrecht, M.R., E. Avilés-Berzunza, G. Godoy-Hernández, L.M. Peña-Rodríguez. Genetic transformation of the tropical vine Pentalinon andrieuxii (Apocynaceae) via Agrobacterium rhizogenes produces plants with an increased capacity of terpenoid production. In Vitro Cellular & Developmental Biology-Plant. doi.org/10.1007/s11627-020-10101-z
Herrera-López M.G., E.I. Rubio-Hernández, P. Richomme, A. Schinkovitz, L.M. Calvo-Irabién, L.M. Peña Rodríguez. Resorcinolic lipids from Yucatecan propolis. Journal of the Brazilian Chemical Society. 31, 186-192 (2020)
Herrera-Canché S.G., M. Sánchez-González, L.A. Loyola, Jorge Bórquez, Karlina García-Sosa and Luis Manuel Peña-Rodríguez. Biotransformation of a Mulinane Diterpenoid by Aspergillus alliaceus and Mucor circinelloides. Biocatalysis and Biotransformation. 38, 1-6 (2020).
RECONOCIMIENTOS O PREMIOS
---
Asesor Científico de la International Foundation for Science. 2008 a la fecha
Investigador Nacional. Nivel III. 2016-a la fecha
Mención Especial. Premio CANIFARMA 2003 a la Investigación Tecnológica o Clínica en el Área de Medicamentos de Uso Humano. México, DF, Enero de 2004.
Premio IFS Silver Jubilee Award, otorgado por la International Foundation for Science. Junio de 2001.
Miembro de la Academia Mexicana de Ciencias. 2000 a la fecha
SITIOS RECOMENDADOS
---
Responsable de la Información: Luis Manuel Peña
Fecha de última actualización: 17 de noviembre de 2022