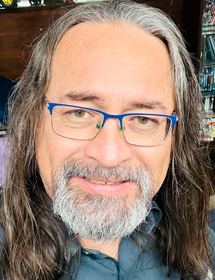 Santy Peraza Echeverria
NOMBRAMIENTO
Investigador Titular C
UNIDAD ACADÉMICA
Biotecnología
SNI
Nivel I
TELÉFONO
(52) 999 942 83 30, Ext:202
CORREO INSTITUCIONAL
This email address is being protected from spambots. You need JavaScript enabled to view it.
EDUCACIÓN
Licenciatura, Biología. Universidad Autónoma de Yucatán, México. 1998.
Maestría, Biotecnología de Plantas. Centro de Investigación Científica de Yucatán, México. 2000.
Doctorado (PhD), Biotecnología de Plantas. Queensland University of Technology, Australia. 2004.
LÍNEA ACTUAL DE INVESTIGACIÓN
Biotecnología de Cultivos Tropicales: Desarrollo de Resistencia al Estrés Biótico
Biotecnología de Microalgas: Biocombustibles y Proteínas Recombinantes
PROYECTOS VIGENTES
Caracterización de genes involucrados en la respuesta hipersensible y resistencia sistémica adquirida de cultivos tropicales.
Ingeniería metabólica de la síntesis de triacilglicéridos (TAGs) en microalgas verdes para la producción de biocombustibles.
Expresión de proteínas recombinantes de interés agropecuario en la microalga verde Chlamydomonas reinhardtii.
PUBLICACIONES RECIENTES
Mayorga-López AG, Baas-Espinola FM, Limones-Briones V, Martin-Cocom MA, Vallejo-Reyna MA, Canul-Euán TJ, Barredo-Pool FA, García-Laynes S, Herrera-Valencia VA, Peraza-Echeverria S (2018). Genomic organization, phylogeny, and functional analysis of the banana MaRAR1 gene that encodes a cochaperone of HSP90. Plant Gene. 16:19-31. ELSEVIER. ISSN: 2352-4073. DOI: https://doi.org/10.1016/j.plgene.2018.08.003.
Duarte-Coello ME, Herrera-Valencia VA, Echevarría-Machado I, Casais-Molina ML, Peraza-Echeverria S (2018). Molecular cloning and functional characterization of two glycerol 3-phosphate acyltransferases (GPAT) from the green microalga chlamydomonas reinhardtii. Phycological Research. Wiley. ISSN:1440-1835. DOI: doi: 10.1111/pre.12350.
Dale J, James A, Jean-Yves P, Khanna H, Smith M, Peraza-Echeverria S, Garcia-Bastidas F, Kema G, Waterhouse P, Mengersen K, Harding R (2017). Transgenic Cavendish bananas with resistance to Fusarium wilt tropical race 4. Nature Communications. 8:1496. DOI:10.1038/s41467-017-01670-6. ISSN 2041-1723.
Nic-Matos G, Narváez M, Peraza-Echeverría S, Sáenz L, Oropeza C (2017). Molecular cloning of two novel NPR1 homologue genes in coconut palm and analysis of their expression in response to the plant defense hormone salicylic acid. Genes and Genomics 39:1007–1019. Springer. ISSN: 1976-9571. DOI 10.1007/s13258-017-0566-z.
Rodríguez-García CM, Canché-Gómez AD, Sáenz-Carbonell L, Peraza-Echeverría L, Canto-Canché B, Islas-Flores I, Peraza-Echeverría S (2016). Expression of MfAvr4 in banana leaf sections with black leaf streak disease caused by Mycosphaerella fijiensis: a technical validation. Australasian Plant Pathology. 45: 481–488. Springer. ISSN: 0815-3191. DOI 10.1007/s13313-016-0431-6.
PATENTES
Dale JL, Peraza-Echeverria S. Banana resistance genes and uses thereof. United States Patent No. 7,601,887 B2 (Oct. 13, 2009), PCT/AU2004/001300, WO 2005/028651
DESARROLLOS TECNOLÓGICOS
Dale J, James A, Jean-Yves P, Khanna H, Smith M, Peraza-Echeverria S, Garcia-Bastidas F, Kema G, Waterhouse P, Mengersen K, Harding R (2017). Transgenic Cavendish bananas with resistance to Fusarium wilt tropical race 4. Nature Communications. 8:1496. DOI:10.1038/s41467-017-01670-6. ISSN 2041-1723.
https://doi.org/10.1038/s41467-017-01670-6.

Formato HTML

GM banana shows promise against deadly fungus strain.

Formato HTML
RECONOCIMIENTOS O PREMIOS
Sistema Nacional de Investigadores. Nivel I
Beca para realizar estudios de doctorado en el extranjero.CONACYT
SITIOS RECOMENDADOS
Responsable de la Información: Santy Peraza Echeverria
Fecha de última actualización: 10 de diciembre de 2018