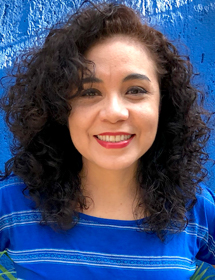 Virginia Aurora Herrera Valencia
NOMBRAMIENTO
Investigador Titular B
UNIDAD ACADÉMICA
Biotecnología
SNI
Nivel I (2017-2020)
TELÉFONO
(52) 999 942 83 30,  Ext: 210
CORREO INSTITUCIONAL
This email address is being protected from spambots. You need JavaScript enabled to view it.
EDUCACIÓN
Licenciatura, Licenciado en Biología. Universidad Autónoma de Yucatán, México. 1998.
Maestría, Maestría en Ciencias y Biotecnología de Plantas. Centro de Investigación Científica de Yucatán, México, 2000.
Doctorado, Doctor of Philosophy (PhD). Queensland University of Technology, Australia, 2006.
LÍNEA ACTUAL DE INVESTIGACIÓN
Biotecnología de Microalgas: Biocombustibles y Proteínas Recombinantes
Biotecnología de Cultivos Tropicales: Desarrollo de Resistencia al Estrés Biótico
PROYECTOS VIGENTES
Ingeniería metabólica de la síntesis de triacilglicéridos (TAGs) en microalgas verdes para la producción de biocombustibles.
Expresión de proteínas recombinantes de interés agropecuario en la microalga verde Chlamydomonas reinhardtii.
Factores de transcripción de papaya como una plataforma molecular para mejorar su tolerancia a estreses bióticos y abióticos.
Caracterización de genes involucrados en la respuesta hipersensible y resistencia sistémica adquirida de plátano.
PUBLICACIONES RECIENTES
Contreras-Pool PY, Peraza-Echeverria S, Ku-González AF, Herrera-Valencia VA* (2016) The phytohormone abscisic acid increases triacylglycerol content in the green microalga Chlorella saccharophila (Chlorophyta). Algae 31:267-276 pISSN:1226-2617 eISSN:2093-0860 http://dx.doi.org/10.4490/algae.2016.31.9.3
*Corresponding author
Casais-Molina ML, Peraza-Echeverria S, Echevarría-Machado I, Herrera-Valencia VA* (2016) Expression of Chlamydomonas reinhardtii CrGPDH2 and CrGPDH3 cDNAs in yeast reveals that they encode functional glycerol-3-phosphate dehydrogenases involved in glycerol production and osmotic stress tolerance. Journal of Applied Phycology 28: 219-226 ISSN: 0921-8971 DOI: 10.1007/s10811-015-0588-3
*Corresponding author
Vallejo-Reyna MA, Santamaría JM, Rodríguez-Zapata LC, Herrera-Valencia VA, Peraza-Echeverria S (2015) Identification of novel ERF transcription factor genes in papaya and analysis of their expression in different tissues and in response to the plant defense inducer benzothiadiazole (BTH). Physiological and Molecular Plant Pathology 91: 141-151 ISSN: 0885-5765. DOI: 10.1016/j.pmpp.2015.06.005
Rivera-Solís RA, Peraza-Echeverria S, Echevarría-Machado I, Herrera-Valencia VA* (2014) Chlamydomonas reinhardtii has a small family of purple acid phosphatase homologue genes that are differentially expressed in response to phytate. Annals of Microbiology 64: 551-559 ISSN: 1590-4261 DOI: 10.1007/s13213-013-0688-8
*Corresponding author
Herrera-Valencia VA, Macario-González LA, Casais-Molina ML, Beltran-Aguilar AG, Peraza-Echeverría S (2012) In silico cloning and characterization of the glycerol-3-phosphate dehydrogenase (GPDH) gene family in the green microalga Chlamydomonas reinhardtii. Current Microbiology 64: 477- 485 ISSN: 0343-8651 DOI: 10.1007/s00284-012-0095-6
RECONOCIMIENTOS O PREMIOS
2017. Sistema Nacional de Investigadores. Nivel I
2013. Sistema Nacional de Investigadores. Nivel I
2008. Nivel candidato
2001.Beca para realizar estudios de doctorado en el extranjero. CONACyT
SITIOS RECOMENDADOS
Responsable de la Información: Virgina Herrera
Fecha de última actualización: 8 de noviembre de 2016.