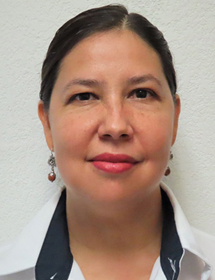 Casandra Reyes García
CURRENT POSITION
Researcher
DIVISION
Natural Resources
SNI LEVEL
II
TELEPHONE
(52) 999 942 83 30, EXT.: 168
E-MAIL
This email address is being protected from spambots. You need JavaScript enabled to view it.
Education
---
B.S. Biology. Universidad Nacional Autónoma de México. 2001.
Ph.D. University of Cambridge. 2006.
Post-doctoral fellow. Centro de Investigación Científica de Yucatán. 2007.
Current research
---
Global Change In Neotropical Ecosystems.
Plant ecophysiological strategies in seasonally dry systems; comparing similarities and divergence of physiological processes in trees and epiphytes that subsist in tropical communities exposed to long periods of drought.
Ecosystem environmental services; analysis of the capacity of natural systems to provide ecosystem services, from trees in cities to assessments of forests throughout the Yucatan Peninsula.
ONGOING RESEARCH
---
Monitoring effects of climate change on coastal dune scrub, mangroves and seasonally dry forests using epiphytic bromeliads as indicators.
Strategic environmental assessment of Yucatan State and current development projects.
RECENT PUBLICATIONS
---
RECOGNITIONS AND AWARDS
---
2011. Level I. Sistema Nacional de Investigadores. CONACyT
2020. Member. Academia Mexicana de Ciencias.
2020. Level II. Sistema Nacional de Investigadores. CONACyT
Source: Casandra Reyes-García
Last Updated: 25 August 2021