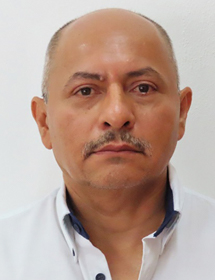 Jaime Martínez Castillo
CURRENT POSITION
Researcher
DIVISION
Natural Resources
SNI LEVEL
I
TELEPHONE
(52) 999 942 83 30, EXT.: 237
E-MAIL
This email address is being protected from spambots. You need JavaScript enabled to view it.
Education
---
B.S. Biology. Universidad Nacional Autónoma de México. 1994.
Ph.D. Plant Science and Biotechnology. Centro de Investigación Científica de Yucatán. 2005.
Post-doctoral fellow. Centro de Investigación y de Estudios Avanzados. 2006.
Current research
---
Agrobiodiversity for Ecological and Cultural Sustainability.
ONGOING RESEARCH
---
Reinforcement of ethnobiological role of the Regional Botanical Garden Roger Orellana-CICY. (FORDECYT-PRONACES, CONACYT)
RECENT PUBLICATIONS
---
RECOGNITIONS AND AWARDS
---
2005-2007. Best Ph.D. dissertation. Sociedad Botánica de México.
2012. Recognition of "Successful Case" for project "Molecular analysis of origin and domestication of the Mesoamerican genetic heritage of Lima bean (Phaseolus lunatus L.)". Ciencia Básica-CONACYT.
2013. Award. Outstanding Paper in Plant Genetic Resources. Division C8, Plant Genetic Resources. Crop Science Society of America. "Evolution and domestication of Lima Bean (Phaseolus lunatus L.) in Mexico: evidence from Ribosomal DNA". Crop Science 52: 1698-1712.
2020-2022. Level I. Sistema Nacional de Investigadores. CONACyT.
Source: Jaime Martínez-Castillo
Last Updated: 25 August 2021