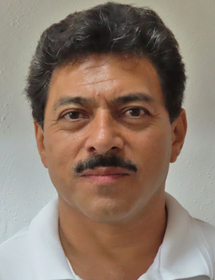 Javier Orlando Mijangos Cortés
CURRENT POSITION
Researcher
DIVISION
Natural Resources
SNI LEVEL
I
TELEPHONE
(52) 999 942 83 30, EXT.: 219
E-MAIL
This email address is being protected from spambots. You need JavaScript enabled to view it.
Education
---
B.S. Phytotechnical Agronomical Engineering. Universidad Autónoma Agraria Antonio Narro. 1989.
M.S. Biotechnology (Plant Processes). Instituto Tecnológico de Mérida. México, 1993.
Ph.D. Genetic Resources and Productivity-Genetics. Colegio de Postgraduados. 2005.
Current research
---
Agrobiodiversity for Ecological and Cultural Sustainability.
ONGOING RESEARCH
---
Conservation, sustainable use, increased productive capacity and re-evaluation of the Maya milpa in Yucatan. (CONACYT FOMIX)
RECENT PUBLICATIONS
---
RESEARCH OPPORTUNITIES
---
Zea mays: analysis of diversity, characterization of germplasm and genetic improvement.
Source: Javier Orlando Mijangos-Cortés
Last Updated: 25 August 2021