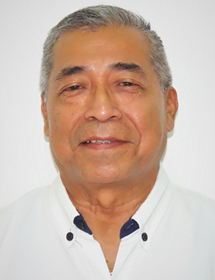 José Luis Andrade Torres
CURRENT POSITION
Researcher
DIVISION
Natural Resources
SNI LEVEL
III
TELEPHONE
(52) 999 942 83 30, EXT.: 368
E-MAIL
This email address is being protected from spambots. You need JavaScript enabled to view it.
Education
---
B.S. Biology. Universidad Nacional Autónoma de México. 1981.
Ph.D. Biology. University of California, Los Angeles, USA. 1995.
Post-doctorate. Hawaii Agriculture Research Center (USA) and Smithsonian Tropical Research Institute (Panama), 1995-1999.
Current research
---
Environmental Services of Biodiversity.
ONGOING RESEARCH
---
Water Use and Photosynthesis of Tropical Forest Trees and Mangrove Forests on the Yucatan Peninsula.
RECENT PUBLICATIONS
---
RECOGNITIONS AND AWARDS
---
2007. Level II. Sistema Nacional de Investigadores. CONACyT
2008. Member. Academia Mexicana de Ciencias.
2020. Level III. Sistema Nacional de Investigadores. CONACyT
RESEARCH OPPORTUNITIES
---
Physiology of rainforest trees and mangrove forests.
Communicating science on environmental and biodiversity aspects.
Source: José Luis Andrade-Torres
Last Updated: 25 August 2020