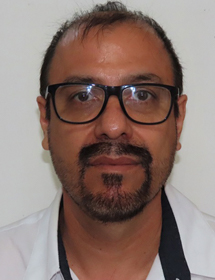 José Luis Hernández Stefanoni
CURRENT POSITION
RESEARCHER
DIVISION
Natural Resources
SNI LEVEL
II
TELEPHONE
(52) 999 942 83 30, EXT.: 366
E-MAIL
This email address is being protected from spambots. You need JavaScript enabled to view it.
Education
---
B.S. Forestry engineer specialized in forestry supply . Universidad Autónoma Chapingo. 1988.
M.S. Computer Sciences. Colegio de Postgraduados. 1992.
Ph.D. Watershed Ecosystems. Trent University, Canada. 2004.
Current research
---
Global Change In Neotropical Ecosystems.
ONGOING RESEARCH
---
Aboveground biomass estimation in tropical dry forests of the Yucatan Peninsula, using field and remotely sensed data. (Ecometrica LTD, British Space Agency)
RECENT PUBLICATIONS
---
RECOGNITIONS AND AWARDS
---
Editor. Special Issue "Novel Approaches in Tropical Forests Mapping and Monitoring – Time for Operationalization". Remote Sensing
2013. Level II. Sistema Nacional de Investigadores. CONACyT
2015. Member. Academia Mexicana de las Ciencias.
2017. Level II. Sistema Nacional de Investigadores. CONACyT
2018-To date. Associate editor. Remote Sensing in Ecology and Conservation.
RESEARCH OPPORTUNITIES
---
Use of remotely-sensed data and spatial analysis to monitor vegetation structure and species composition in tropical forests using passive sensors such as Spot, Landsat, Rapid eye and Sentinel 2, as well as active sensors such as LiDAR and ALOS PALSAR.
Landscape ecology: patterns, processes, scale and factors that affect the structure and composition of plant communities.
RECOMMENDED WEB PAGES
---
Source: José Luis Hernández-Stefanoni
Last Updated: 25 August 2021