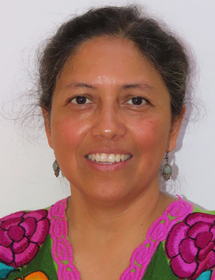 María Azucena Canto Aguilar
CURRENT POSITION
Researcher
DIVISION
Natural Resources
SNI LEVEL
I
TELEPHONE
(52) 999 942 83 30, EXT.: 371
E-MAIL
This email address is being protected from spambots. You need JavaScript enabled to view it.
Education
---
B.S. Biology. Universidad Autónoma de Yucatán. 1997.
Ph.D. Ecology and Natural Resources Management. Instituto de Ecología, Xalapa, Mexico. 2004.
Post-doctoral fellow. Ecology and Evolution of Plant-Animal Interactions. Estación Biológica de Doñana, Sevilla, Spain, 2005.
Current research
---
Environmental Services of Biodiversity
ONGOING RESEARCH
---
Nutrition and Health of Honeybees and Stingless Bees in Yucatan.
Predation of Convolvulaceae Seeds by Megacerus Seed-eaters.
Diversity of Bee-associated Microorganisms.
Floral Resources for Native Bees and Apis mellifera.
RECENT PUBLICATIONS
---
RESEARCH OPPORTUNITIES
---
Thesis topics:
DNA sequencing of bee-associated microorganisms in nectar, pollen, and honey.
Design of diets for bee nutrition.
Health and nutrition of Apis mellifera, Melipona beecheii.
Bee bread and flower pollen dynamic in bee nutrition.
Source: María Azucena Canto-Aguilar
Last Updated: 25 August 2021