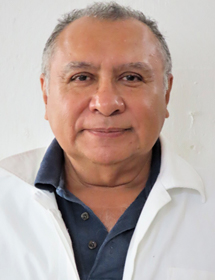 Pedro Jesus Herrera Franco
NOMBRAMIENTO
Investigador Titular C
UNIDAD ACADÉMICA
Materiales
SNI
Nivel III
TELÉFONO
(52) 999 942 83 30, Ext: 255
CORREO INSTITUCIONAL
This email address is being protected from spambots. You need JavaScript enabled to view it.
EDUCACIÓN
Licenciatura. Ingeniería Industrial en Mecánica, Instituto Tecnológico de Mérida, 1978. 
Maestría. Ingeniería Mecánica, Universidad del Estado de Michigan, EUA, 1981. 
Doctorado.  Mecánica Teórica, Universidad del Estado de Michigan, EUA, 1986. 
LÍNEA ACTUAL DE INVESTIGACIÓN
MATERIALES COMPUESTOS DE MATRIZ POLIMÉRICA
PROCESAMIENTO DE POLÍMEROS
PROYECTOS VIGENTES
MATERIALES COMPUESTOS CON REFUERZO DE FIBRAS DE HENEQUÉN MICROPROPAGADAS
COMPORTAMIENTO VISCOELÁSTICO DE MATERIALES COMPUESTOS
PROPIEDADES INTERFACIALES EN MEZCLAS POLIMÉRICAS Y FLUIDOS ELECTROREOLÓGICOS
PUBLICACIONES RECIENTES
E. PÉREZ-PACHECO, M. V. MORENO-CHULIM, A. VALADEZ-GONZÁLEZ, C.R. RIOS-SOBERANIS AND P. J. HERRERA-FRANCO, EFFECT OF THE INTERPHASE MICROSTRUCTURE ON THE BEHAVIOR OF CARBON FIBER/EPOXY RESIN MODEL COMPOSITE IN A THERMAL ENVIRONMENT, J. OF MATERIALS SCIENCE, APROBADO 24 DE ENERO DE 2011.
J. GIRONÈS, J.P. LOPEZ, F.VILASECA, J. BAYER R, P.J. HERRERA-FRANCO, P.MUTJÉ, BIOCOMPOSITES FROM MUSA TEXTILIS AND POLYPROPYLENE. EVALUATION OF FLEXURAL PROPERTIES AND IMPACT STRENGTH, COMPOSITES SCIENCE AND TECHNOLOGY, doi:10.1016/j.compscitech.2010.10.012 NOVIEMBRE DE 2010, 71 (2011) 122-1298.
JOSE MINA, ALEX VALADEZ, PEDRO J. HERRERA-FRANCO, FABIO ZULUAGA AND SILVIO DELVASTO, PHYSICOCHEMICAL CHARACTERIZATION OF NATURAL AND ACETYLATED THERMOPLASTIC CASSAVA STARCH, DYNA, ACEPTADO EN ABRIL DE 2010.
DEL CASTILLO-CASTRO T., M. M. CASTILLO-ORTEGA, P. J. HERRERA-FRANCO, D. E. RODRIGUEZ-FÉLIX, COMPATIBILIZATION OF POLYETHYLENE/POLYANILINE BLENDS WITH A POLYETHYLENE-GRAFT-MALEIC ANHYDRIDE, JOURNAL OF APPLIED POLYMER SCIENCE, VOLUME 119, ISSUE 5, 5 MARCH 2011, PAGES: 2895–2901, DOI 10.1002/APP, 2010.
CARRILLO-SÁNCHEZ F., G. CANCHE-ESCAMILLA AND P. J. HERRERA-FRANCO, A STUDY OF THE FRACTURE TOUGHNESS OF ACRYLIC COMPOSITES USING THE ESSENTIAL WORK FRACTURE METHOD, POLYMER TESTING, 29: 565-571, (2010).
RECONOCIMIENTOS O PREMIOS
1990. Best Academic Paper Award ASM/ESD. THE 1990 ASM/ESD ADVANCED COMPOSITES CONFERENCE COMMITTEE, U.S.A.
1995. Best Academic Paper Award ASM/ESD. THE 1995 ASM/ESD ADVANCED COMPOSITES CONFERENCE COMMITTEE, U.S.A.
Academia Mexicana de Ciencias
Comité de Ingeniería Materiales y Manufactura del Conacy
Comité de Evaluación Externa del Programa de Posgrado Interinstitucional del Sistema SEP-CONACYT
Responsable de la información: Dr. Pedro Herrera
Fecha de última actualización: 14 de marzo de 2011