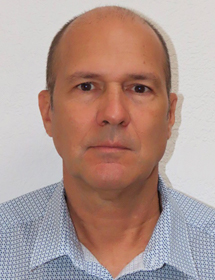 Rodrigo Duno de Stefano
CURRENT POSITION
Researcher
DIVISION
Natural Resources
SNI LEVEL
II
TELEPHONE
(52) 999 942 83 30, EXT.: 110
E-MAIL
This email address is being protected from spambots. You need JavaScript enabled to view it.
Education
---
B.S. Biology. Universidad Central de Venezuela. 1998.
M.S. Pure and Applied Fungal Taxonomy. Reading University. 1991.
Ph.D. Vegetal Biology I. Universidad Complutense de Madrid. 2002.
Current research
---
Systematics and Floristics
ONGOING RESEARCH
---
Legumes from the Yucatan Peninsula.
Digital Flora from the Yucatan Peninsula.
Systematic of the Pithecellobium alliance
RECENT PUBLICATIONS
---
RECOGNITIONS AND AWARDS
---
2005. Latin American Research Fellowship. Research Stay, Kew Garden.
2006. Rupert Barneby Award. New York Botanical Garden.
2007. Cuatrecasas Award. Smithsonian Institute.
2014. Alwyn H. Gentry Missouri Botanical Garden scholarship.
RECOMMENDED WEB PAGES
---
Source: Rodrigo Duno de Stefano
Last Updated: 26 August 2021