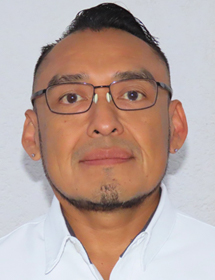 Jorge Alonso Uribe Calderón
NOMBRAMIENTO
Investigador Titular A
UNIDAD ACADÉMICA
Materiales
SNI
Nivel I (2019)
TELÉFONO
(52) 999 942 83 30, Ext: 291
CORREO INSTITUCIONAL
This email address is being protected from spambots. You need JavaScript enabled to view it.
EDUCACIÓN
Licenciatura.IQI,UADY, 1995
Maestría. McGill University, 2003
Doctorado.McGill University, 2008
Posdoctorado. McGill University, 2008-2010
LÍNEA ACTUAL DE INVESTIGACIÓN
Nanocompuestos con matriz polimérica
PROYECTOS VIGENTES
Modificación superficial de nanopartículas (nanotubos de carbón y nanofibras de silicato) para la producción de nanomateriales compuestos poliméricos- Conacyt Ciencia Básica
PUBLICACIONES RECIENTES
The effects of carbon nanotubes, blend composition and glycidyl methacrylate-grafted polypropylene compatibilizer on the morphology, mechanical and electrical properties of polypropylene-polyamide 6 blends. J Uribe-Calderon, C Dıaz-Arriaga. Polym. Bull. DOI 10.1007/s00289-016-1790-4
Influence of carbon nanotube on the piezoresistive behavior of multiwall carbon nanotube/polymer. Francis Avilés, Alejandro May-Pat, Gonzalo Canché-Escamilla, Omar Rodríguez-Uicab, J Jesus Ku-Herrera, Santiago. Journal of Intelligent Material Systems and Structures. 2016, Vol. 27(1) 92–103 DOI: 10.1177/1045389X14560367
Coupled electro-mechanical properties of multiwall carbon nanotube/polypropylene composites for strain sensing applications. O. Zetina-Hernández, S. Duarte-Aranda, A. May-Pat, G. Canché-Escamilla, J. Uribe-Calderon, P.I. Goncalez-Chi, F. Avilés. J. Mater Sci. DOI 10.1007/s10853-013-7575-3. Julio de 2013
Nanocrystalline cellulose (NCC) reinforced alginate based biodegradable nanocomposite film. Tanzina Huq, Stephane Salmieri, Avik Khan, Ruhul A. Khan, Canh Le Tien, Bernard Riedl, Carole Fraschini, Jean Bouchard, Jorge Uribe-Calderon, Musa R. Kamal, Monique Lacroix. Carbohydrate Polymers. 2012 (90) pp 1757–1763
Preparation and Thermo-mechanical Characterization of Chitosan Loaded Methylcellulose-based Biodegradable Films: Effects of Gamma Radiation. Ruhul A. Khan, Stephane Salmieri, Dominic Dussault, Nathalie Tufenkji, Jorge Uribe-Calderon, Musa R. Kamal, Agnes Safrany and Monique Lacroix. Journal of Polymers and the Environment. 2012, (20), pp43-52. DOI: 10.1007/s10924-011-0336-y.
RECONOCIMIENTOS O PREMIOS
2001.Beca Internacional, CONACYT.
2012.Beca de Repatriación, CONACYT
Responsable de la Información: Jorge Alonso Uribe Calderón
Fecha de última actualización: 9 de febrero de 2017